Opera at Stade de France
The next opera at Stade de France
Opera at Stade de France
Stade de France has one of the biggest stages in Europe; its capacity in concert mode is close to 100,000 places. Imagine 100,000 people buzzing in front of the same show. Thus, Stade de France is the place where the great classics are performed again: Verdi's Requiem in 2002; Carmen in 2003; Turandot in 2005; Nabucco in 2008; and of course, Aida in 2002 and 2010.
Verdi at Stade de France
Giuseppe Verdi was a socially committed non-conformist artist who, at the end of his life, created a retirement home in Milan for destitute musicians. He was also a politician who was a member of parliament between 1861 and 1865. A composer of the first order, Verdi had tremendous success during his lifetime, which resulted in many commissions.
Giuseppe Verdi's operas are among the most popular in the opera repertoire. Giuseppe Verdi understood the medium and the spectacle like no other, the sense of the tune that is retained. Everyone can mention 2 or 3 of his works (La Traviata, Aida, Rigoletto, Nabucco or MacBeth). Better still, everyone can sing a tune like the Chorus of the Slaves "va pensiero" which will become a hymn to the resistance.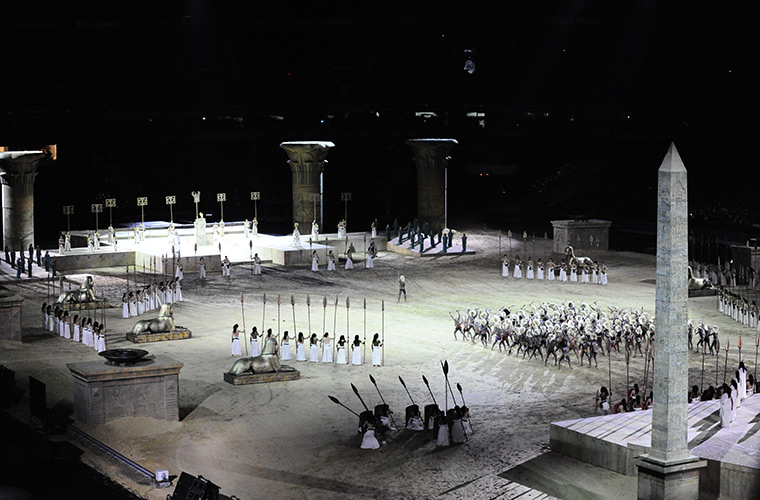 Today, this success is not denied and Giuseppe Verdi is still one of the most played composers in the world. Stade de France has programmed several of his works, ideal for a director like Olivier Py. Verdi loves movements on stage in unison with lively music for the enjoyment of the audience. In 2010, the show, Aida, was subtitled "a Pharaonic opera".
Classical music concert at Stade de France
Stade de France offers the possibility of organising extraordinary shows. With Puccini's Turandot, the Chinese director, Zhang Yimou, brought in 80 musicians, 120 choir members, 100 dancers and more than 150 extras. In total, 450 people on one stage. 1,500 costumes had been designed for this opera. The challenge for the next classical music performance at Stade de France has been launched.