Bruce Springsteen at Stade de France
Bruce Springsteen's previous concerts at Stade de France
June 2013
Bruce Springsteen & The E Street Band
Le Boss est de retour au Stade de France le 29 juin 2012, presque 10 ans après son premier passage. Accompagné par The E Street Band dans sa tournée mondiale du Wrecking ball Tour, Bruce Springsteen, guitare électrique en bandoulière et poing levé, va rappeler qu'il est "Borned in the USA" et faire à nouveau trembler les tribunes du Stade de France au son du Rock and Roll !
May 2003
Bruce Springsteen & The E Street Band
The release of Bruce Springsteen's 12th album in 2002, The Rising, led to the singer's world tour, "The Rising Tour", in the company of The E Street Band. On Saturday May 24, 2003, he performed at Stade de France.
Bruce Springsteen at Stade de France
Biography of Bruce Springsteen
Born on September 23, 1946, Bruce Springsteen dedicated himself to music after discovering the music of Elvis Presley. In 1972, John Hammond noticed him and got him to sign to Colombia. "Greetings from Asbury Park, N.J", his first album, was only a minor success.
It was in 1975 that his career really took off with his album "Born To Run" and in 1982, with his "Nebraska" album which met with enormous success. But his biggest success came in 1984 with the "Born in the USA" album. Bruce Springsteen collected Grammy Awards throughout his career. Later, he released other albums, including Human Touch in 1992 and Tracks in 1998.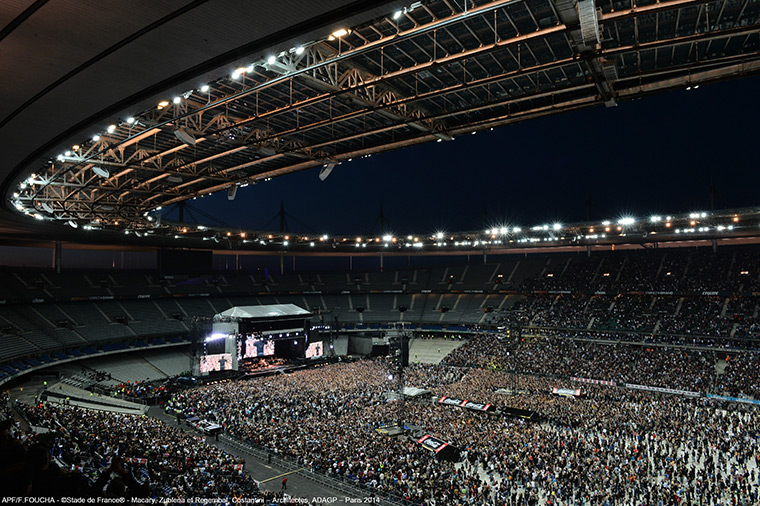 Very committed, Bruce Springsteen has taken part in many concerts with a "political" reach. He therefore took part in a concert against nuclear energy organised in 1976. To commemorate the September 11 attacks, he also released an opus in 2002, "The Rising", which was an opportunity for him, after years of being solo, to rediscover "The E Street Band," the group of musicians that followed him from 1972 to 1989.