DISCOVER THE ARTISTS
DISCOVER ALL THE ARTISTS WHO PERFORM AT STADE DE FRANCE
Ed Sheeran at Stade de France
LES PRÉCÉDENTS CONCERTS D'ED SHEERAN AU STADE DE FRANCE
July 2018
Ed Sheeran 2
After having filled the world's biggest stadiums in record time during his previous tour, Ed Sheeran returns to France for two event concerts on July 29 and July 30, 2022 at Stade de France, with a brand-new production on a central stage and the audience completely surrounding him.
July 2018
Ed Sheeran
Following his triumphant Glastonbury Festival headline performance, Ed Sheeran is delighted to announce his 2018 stadium tour, marking the biggest tour of his career to date!
Ed Sheeran at Stade de France
Né le 17 février 1991 à Halifax, en Angleterre, Edward Christopher Sheeran, plus connu sous le nom de Ed Sheeran est un guitariste, auteur, compositeur et interprète anglais. Passionné de musique, il joue avec talent de la guitare depuis tout petit.
À 11 ans, il rencontre le musicien Damien Rice, qui lui conseille d'écrire ses propres chansons. Il enregistre alors ses premiers morceaux sur des CDs qu'il vend lui-même, puis enregistre sa première maquette. A 14 ans, il part poursuivre son rêve à Londres. À partir de 2005, il autoproduit pas moins de cinq maquettes et multiplie les petits concerts amateurs. Profitant de l'essor d'Internet, il met en ligne plusieurs de ses chansons et concerts. Grâce à ses vidéos, il se fait repérer par le rappeur Example, dont il fait la première partie lors de sa tournée aux USA. En 2011, il enregistre un album indépendant mis en vente sur iTunes. Sans aucune promotion ni label, il finit n°2 des ventes. Peu de temps après, il signe son premier contrat avec le label Asylum Records, une filiale d'Atlantic Records et sort son premier album « + » en septembre 2011, qui se vend à près de deux millions d'exemplaires en Angleterre et se classe en tête des ventes en Angleterre. Grâce aux singles « The A Team », « Lego House » ou encore « Give me love », l'album connaît un succès international et cumule les millions de vues sur les plateformes de streaming. « The A-Team » permettra réellement à la carrière d'Ed Sheeran de se lancer à travers le monde.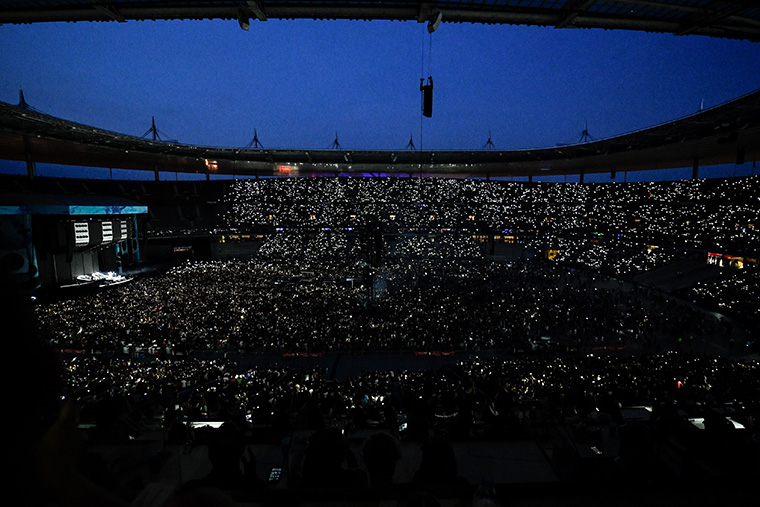 ​
En 2012, il remporte deux récompenses lors des Brit Awards, celles du « Meilleur artiste solo britannique » et « Révélation de l'année ». La même année, il écrit pour Justin Bieber, les One Direction et compose pour Taylor Swift. La même année, il se produit lors de la cérémonie de clôture des Jeux Olympiques d'été, interprétant l'un des titres phares des Pink Floyd, « Wish You Were Here ». Deux ans plus tard, Il compose la bande originale du film Nos étoiles contraires avec la chanson « All Of The Stars ». Fort de son succès, il est choisi par Peter Jackson pour écrire et chanter « I See Fire », la chanson finale du film Le Hobbit : La désolation de Smaug. Le 23 juin 2014, il sort son second album, intitulé « X », qui se propulse directement n°1 des ventes aux USA et en Angleterre avec des tubes comme « Thinking out Loud ». Il rafle tous les prix aux Brit Awards 2015. Élu « Meilleur album britannique », le chanteur repart également avec le prix du « Meilleur artiste solo britannique ». Il décroche par ailleurs le Grammy Award de la « Meilleure chanson » en 2016 et de la « Meilleure performance pop ».
En 2015, il se produit de multiples fois à Wembley : il y fera notamment un duo avec le rappeur français Nekfeu. A la fin de l'année 2016, Ed Sheeran commence à revenir sur le devant de la scène. Il fait un retour fracassant sur les réseaux sociaux, en dévoilant deux titres le 6 janvier 2017, « Shape of You » et « Castle On The Hill », qui se hissent directement en tête des tops iTunes de nombreux pays. Il confirme également la sortie d'un nouvel album, « ÷ » le 3 mars 2017. Sans surprise, il démarre numéro 1 dès sa première semaine de sortie dans plusieurs pays. En 2018, son single « Shape of You » est nommé « Meilleure vente 2017 » en Angleterre et l'album « ÷ » est le plus vendu en 2017 en Angleterre et aux États-Unis. Aux Billboard Music Awards de 2018, Ed Sheeran gagne pas moins de six prix dont celui de « Meilleur artiste ». En 2019, il sort un nouvel album intitulé « Divide ». Après ça, il décide faire une pause. Il revient quelques mois plus tard avec un titre en duo avec Justin Bieber « I don't care », ce qui marque la sortie de son album « N°6 Collaborations Project ». En 2020, Ed Sheeran devient papa pour la première fois. En 2021, il dévoile son nouvel album intitulé « = » et annonce repartir en tournée dans les mois qui suivent. En fin d'année, il sort un titre avec Elton John intitulé « Merry Christmas ». Après un premier passage très remarqué en 2018, Ed Sheeran sera de retour au Stade de France pour deux concerts exceptionnels les 29 et 30 juillet 2022.