Public relations
Tuesday 7 February 2017
Increasing the profitability of the business
Protecting margins, improving commercial profitability and limiting turnover within sales teams are major challenges for companies in an economic context where sales growth is often limited.
Do you wonder which levers would allow you:
to increase the profitability of your business;
to reduce the failure rate of commercial prospecting;
to limit turnover within sales forces;
Using Stade de France as a commercial tool can be an effective means for companies, and especially sales and marketing teams, to achieve these objectives.
MAINTAINING MARGINS:THE ALLIES STRATEGY
Protecting margin rates is a major objective within sales and marketing teams in response to the recurring demands of purchasing departments to drive prices down. Sometimes, without the benefit of powerful allies in decision-making circles, allies capable of understanding the added value of a company's products and services, its margins take a pounding at negotiation time. Convincing a purchasing department, often obsessed with price, is sometimes a challenge, even for the most seasoned salespeople.
Clearly, a climate of trust and proximity between your sales teams and their contacts will encourage subsequent commercial negotiations. Thus, creating opportunities for exchange in a relaxed setting often allows buyers and decision-makers to better understand the added value of your company and your elements of differentiation. This is an opportunity to pass on key messages and to create allies.
Organising a public relations event at Stade de France in a private space in the colours of your company lets you exchange with your key contacts and thus improve their knowledge of the company and its products; by doing so, you will increase the chances of succeeding in subsequent negotiations by limiting the pressure on margins.
TO IMPROVE YOUR COMMERCIAL PROFITABILITY,NEGOTIATE AT A HIGHER LEVEL
Within your company, with whom do you negotiate important contracts? Do you think that this hierarchical level is optimum? Would it be more efficient and more profitable to negotiate at a higher level? Do you sometimes find that, because you do not have contact with high-level customers, your salespeople are in a weak position in the presence of people they do not know well or do not know, for example when they reach the negotiating table?
Creating a link with customer-side decision-makers and associating them with events to understand their growth prospects allows us to approach the negotiation phase with the assurance that key people are in good spirits.
Sharing a fantastic time at Stade de France during football and rugby matches or concerts makes it possible to create this informal link that is so crucial during commercial negotiations.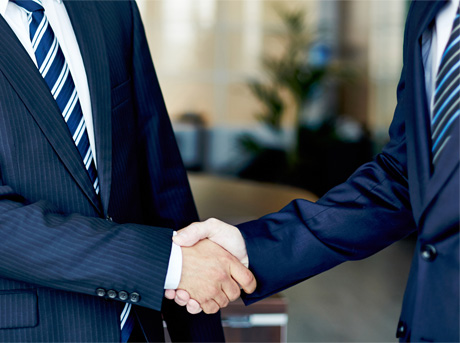 LIMITING TURNOVER:MAJOR CHALLENGE FOR COMMERCIAL TEAMS
Winning business is a long and costly process for companies.
The sphere of decision-making is indeed more and more extended and less and less accessible, since decision-makers are often positioned at the highest hierarchical level.
As the IKO Conseil* study points out, it takes more than 8.4 cold calls to simply reach a prospect by phone. And everything still remains to be done... This difficulty in prospecting often defeats sales forcesand therefore generates significant turnover within sales teams. For the company, it is always a loss ofhistory, a loss of commercial efficiency and then a loss of business.
Facilitating getting an appointment means letting sales teams achieve their goals more easily and reduce their failure rate.
The example of one of our customers is significant: "One of the regional bosses was looking to get in touch with the IT Director of a large group, who he could not manage to get on the phone - the invitation - which was accepted - to attend one of the Euro matches let him break the deadlock."
Public relations events are thus a powerful tool that helps salespeople to "break the deadlock", to get appointments and also helps to improve both the commercial performance and the stability of teams.
Football, rugby, concerts, discover the upcoming events,which are all opportunities to create a link with your customers, your prospects, your partners.
Link to articles: