Public relations
Wednesday 23 November 2016
What actions should you take to increase your company's reputation?
PR operations respond to many commercial challenges but also make it possible to address the concrete problems of communication departments:
Developing the company's brand image
Effectively promoting new products to prospects and customers
Creating links with opinion leaders, journalists and influencers.
Let's take a closer look at how Stade de France events optimise the impact of your communication operations.
REINFORCING YOUR BRAND IMAGE
While public relations operations are an opportunity for companies to increase their turnover and activity, it also represents, for communication departments, numerous opportunities to improve their brand image with their customers, prospects and networks of influence.
Organising your communication operations in an emblematic place with the possibility of personalising your space with the colours of your company is a real advantage for developing your brand.
« The box was entirely decorated with our colours and with our details . So, when we changed our name, we added our technologies. This allowed us to be closer to our ambitions and our stakes and to be able to demonstrate it. There are the business lines, a huge touch screen connected directly to apps and the website. At any time, it is possible for us to do a demonstration; it becomes a real little showroom »
Robin Devogelaere - Communication Director - Enedis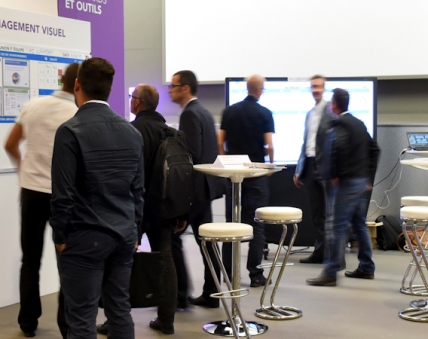 SUCCESSFULLY LAUNCHING A PRODUCT
Innovation plays a major role in business development, and the launch of new products is a crucial moment for companies.
Often, everything is done very quickly and you have to stack all the odds in your favour to attract the key contact people.
When it comes to convincing influencers, choosing a venue like Stade de France to present your products makes it possible to both maximize the presence of the guests and make the presentation even more eventful and attractive.
A simulation in a setting like Stade de France, on the occasion of a major event, significantly increases the impact of a product presentation.
« Of course, I won't jump on a customer to ask him what he thinks about our latest technological innovations, but if I have the opportunity, I won't hesitate to show the quality of the visualisation of the match on my phone, to demonstrate the quality of the 4G coverage, or, at half-time, ask if I can have a business appointment in the guest's diary, or with someone from his team", a Stade de France box customer since 2002 tells us. »
CREATING LINKS WITH INFLUENCERS
Creating links with opinion leaders, journalists and other influencers is a real challenge for communication departments.
Tired of increasing solicitations, journalists are often less present at traditional events created by brands.
It is very important for companies to create a close link with these players who can, at any time, be led to express themselves about the company and its products.
Here again, the attractiveness of events at Stade de France makes it possible to maximize the rates of positive replies to invitations.
Once at Stade de France, in your company's box, the three hours of emotion spent together will be the opportunity both to create a real relationship and sometimes even to pass on key messages.
« The box is a real facilitator for influencers such as journalists, music and TV personalities, bloggers from the digital world. This has allowed us to explain our development, and succeed in imposing it. Once this target has understood it, it allows you to go further and to re-explain lesser-known missions «
Robin Devogelaere - Communication Director - Enedis
Stade de France offers many opportunities to create and reinforce the impact of your PR events on the occasion of the prestigious sporting and musical events that it hosts.