DISCOVER THE ARTISTS
DISCOVER ALL THE ARTISTS WHO PERFORM AT STADE DE FRANCE
The Black Eyed Peas at Stade de France
THE BLACK EYED PEAS' PREVIOUS CONCERTS AT STADE DE FRANCE
June 2011
THE BLACK EYED PEAS
In 2011, The Black Eyed Peas did us the honour of appearing on three successive nights, on June 22, 24 and 25 at Stade de France. As part of their tour, The Beginning Massive Stadium Tour. Two French-speaking artists had the honour of being invited on stage by the group during these three dates: David Guetta and Stromae.
The Black Eyed Peas at Stade de France
Biography of The Black Eyed Peas
The history of The Black Eyed Peas began in 1989 with the meeting of will.i.am. and apl.de.ap. Jaime Luis Gomez, aka Taboo, joined them in 1995 and together, they formed the group, The Black Eyed Peas.
It was not until 2003 that Fergie joined the band, replacing the singer Kim Hill, with whom they had worked on the "Behind the Front" album. They released their first album called "Elephunk," which was a great success worldwide with the hit singles "Shut up," "Where is the Love" and "Let's get it started". In 2005, The Black Eyed Peas released their new "Monkey Business" album with the singles "Pump it," "Don't phunk with my heart" and "My humps". Another success with over 10 million albums sold.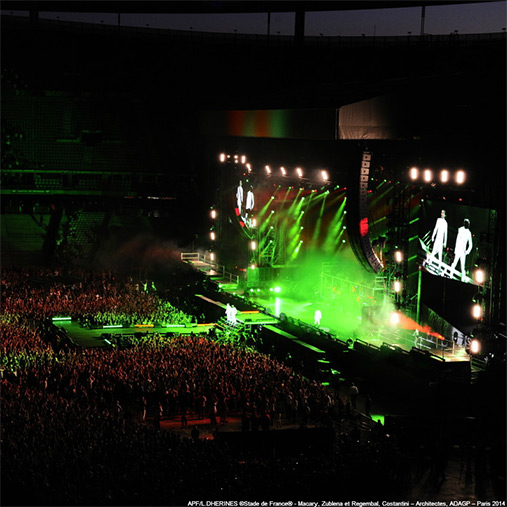 In June 2009, The Black Eyed Peas worked with the DJ David Guetta for their "The E.N.D" album. This album marked their consecration including the song "I gotta feeling" which became a worldwide hit, selling over 11 million copies. In 2010, they released their last album "The beginning", including the singles "The time" and "Just can't get enough".
During these years, Fergie and will.i.am launched their solo careers in parallel.