Corporate events
Monday 17 January 2022
Organise your e-sport event at Stade de France
A temple of sport and music, Stade de France has, since 2019, been developing a gaming & e-sport activity alongside its three historical activities of rugby, football and concerts.
2 years ago, Stade de France bet on e-sport by hosting the Performance Center of Team Vitality, the 1st resident club at Stade de France. The players from the 4 divisions in which Vitality is involved (CS:G0, Rocket League, Fortnite and FIFA) train on site every day and also play some international competitions there.
A 100% connected stadium with flexible spaces
With multifunctional reception capacities that are unparalleled in France, in particular an 80,000-seat arena, a 350-seat auditorium, a studio and more than 20 flexible lounges, one of which covers 2,000 m2, Stade de France is equipped to host all gaming and e-sport events, from the most confidential to the most public. A 100% connected infrastructure also guarantees meeting the expectations of the most demanding users.
For more than 20 years, Stade de France has developed unique know-how in hosting events of all sizes and types (sporting, concerts, seminars, conventions, VIP public relations operations, French and international competitions, etc.), which it is now putting to use for e-sports and gaming in a venue that is easy to access and has an unrivalled parking capacity.
Reputation, flexibility and know-how - use the image and experience of the Stade de France for your events.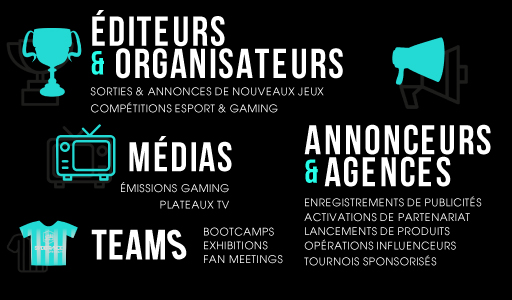 An iconic stadium with a unique experience in hosting sporting events
A mythical stadium, an emblem of France and a symbol of the success of the French national team, Stade de France is the ideal place to host e-sport competitions, or influencing or brand activation operations that will benefit from its prestigious image. Stade de France is the stadium that has hosted the most exceptional sports events in the world: A Football World Cup in 1998, a World Athletics Championship in 2003, a Rugby World Cup in 2007, the Euro 2016 football tournament and soon the Rugby World Cup in 2023 and the Olympic and Paralympic Games in 2024.
Today, Stade de France is the number one stadium in France, and one of the top stadiums in Europe.
Bootcamp, gaming programmes, XXL e-sport competitions, studio, auditorium, events in the arena, modular rooms from 200 to 2,000 m2, we can imagine all types of events for your brand, your partnerships and your communication operations.