Our Institutional partners
A STADIUM IN TOUCH WITH ITS SURROUNDINGS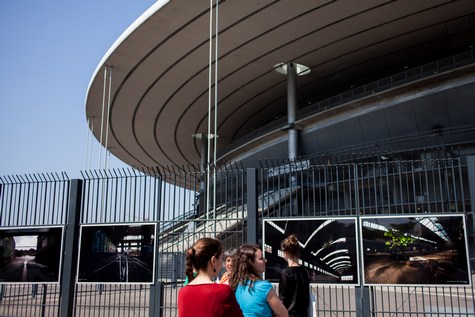 Stade de France is deeply rooted within its environment, and plays an active part in developing, enlivening it and promoting its influence.
Saint Denis City Hall
The Municipality of Saint-Denis organises a host of initiatives intended for the city's residents throughout the whole year.
As part of the "Stadium in the City, City in the Stadium" partnership, the Stade de France and Saint-Denis City Hall are partners in holding the Saint-Denis Festival, as well as the Voie Royale, a Half-marathon that passes through the Stadium grounds.
For further information, please visit www.ville-saint-denis.fr
Plaine Commune
The Plaine Commune Town Association brings together Aubervilliers, Epinay-sur-Seine, L'Ile-Saint-Denis, La Courneuve, Pierrefitte-sur-Seine, Saint-Denis, Stains, Villetaneuse and Saint Ouen. The cooperation that began in 2003 between Plaine Commune and Stade de France has led them to host a succession of major events.
This collaboration has especially been highlighted by the World Championships in Athletics that took place from August 23rd to 31st, 2003 and the 2007 Rugby World Cup.
For further information, please visit www.plainecommune.fr
A.D.A.Q.(Association for the Development and Vitality of the Stade de France Neighbourhood)
The retailers of Stade de France district, united under the name Côté Stade, welcome residents and employees during the whole year within a real retailers district, in the unique and prestigious venue of Stade de France.
Every week, free workshops are offered to the public to discover the commercial brands...
For more information : www.cotestade.fr

Stade de France's Residents and Sponsors Association
Stade de France is proactive in establishing a dialogue with its surrounding neighbourhood.
Whether private individuals, business people, shopkeepers or restaurant managers, everyone living close to the Stadium plays a key role and their voice deserves to be heard. Our aim is simple: Establish and nurture ongoing dialogue with our surrounding neighbourhood.
This is taking shape through yearly events being held at Stade de France in partnership with the United Stade de France Neighbours Associations, Stade the France Neighbours associations and the Stade de France Sponsors Association.
The Residents Day: a crucial local event to maintain our business
The Residents Day is the main event of those annual events. It features side events for adults and activities for children that aim at ensuring that Stade de France neighbours will experience an unforgettable day, spent inside a legendary venue set aside for their exclusive event.