Customer Loyalty
Tuesday 21 August 2018
From transactional marketing to conversational marketing for a lasting customer relationship
Going from transactional marketing to conversational marketing can truly "revolutionise" relationships with your customers. In this article, we will tell you why and advise you of the procedure to follow to achieve it.
The marketing environment is constantly evolving, so you must constantly renew your customer relationships to maintain them in the long term and preserve their quality.
It is no longer enough to establish a simple business relationship, but to engage in a real conversation with your customers to understand them, respond to their expectations and win their trust and thus their loyalty.
In moving from transactional marketing to conversational marketing, businesses are part of this trend with the aim of generating profitable action. The customer then becomes a partner in this new relationship in a double sense.
Transactional marketing vs. conversational marketing
Transactional marketing is focused on the act of purchase at a given moment. Before, you used to learn about the "4 P's" rule in business school: Product/Promotion/Price/Place or how to sell the right product, at the right time, in the right place, to the right target.
Today, this is no longer sufficient. With the rise in power of social networks, the multiplication of channels of communication, the increase of interactivity and the evolution of new technologies, the era of marketing is tending toward customisation and dialogue. Marketing is happening through individualised relationships over the long term.
This vision lets you accompany the customer in the customer purchase process, to build on the quality of their experience and to remain in permanent contact with them; in summary, to establish a relationship based on trust. This "one to one" conversation and the "customer centric" approach have therefore replaced the 4 P's.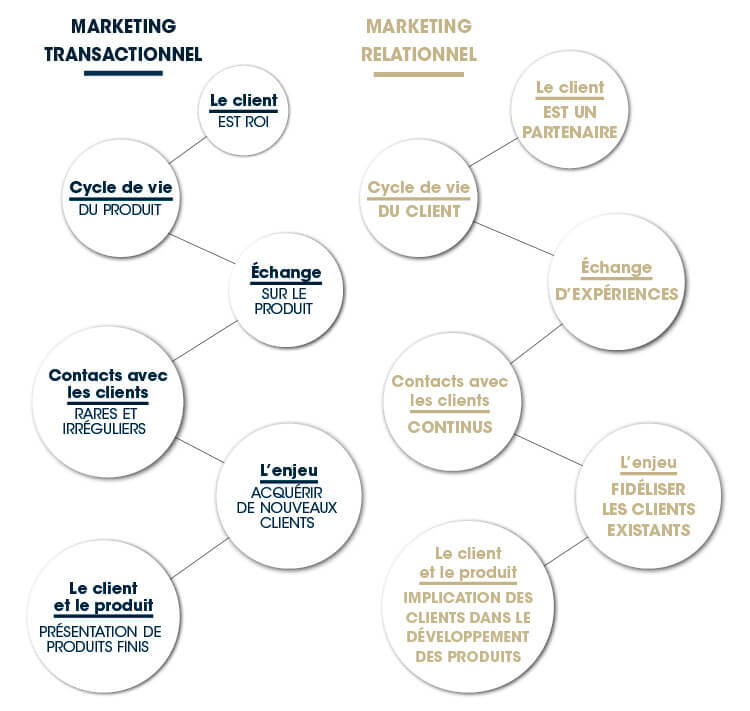 How can you switch from transactional marketing to conversational marketing?
Conversational marketing is a logical follow-on from transactional marketing. Conversation is also a factor of the transaction and the two are not mutually exclusive.
Beyond selling, companies are now looking to retain and to always know their customers better. In conversational marketing, it is the longevity of the relationship that is more important than the act of purchase. It offers customised information and allows you to propose tailored and targeted offers by involving customers in the development of products.
Here are a few tips to help you create conversational marketing for a loyal and sustainable customer relationship.
1. Create the link and a real dialogue
The customers of today no longer hide behind categories or targets, but become people with an identity, preferences, habits...
Above all else, they are looking for a human relationship and an experience that is more than a simple product or service. You must give them value and touch their emotions by introducing a real dialogue that is regular, transparent and tailored to their expectations. Social networks, your points of sale, your website, public relations at special events... are as many places for establishing this dialogue and creating the link around your values.
For example, at each event at Stade de France, our customers benefit from the intimacy and the privileged environment of our private areas to establish a dialogue with their guests. In addition to experiencing a fantastic and unforgettable time them, they tell us that these few hours spent together around an event allow you to get to know them better, to strengthen links in a sustainable manner and thus exceed the simple transactional framework of the relationship.
2. Make your customers Ambassadors
It is better to keep a customer that to want to win a new one at any price! The existing customer is in fact the source of increasing sales and repeat purchases. They are also the first spokesman for your business. They go from simple consumers to partners and even ambassadors when you place them at the heart of the relationship. This naturally contributes to the reputation of your brand. The words and the approval of a customer are worth much more than when you talk about your offer yourself. Creating the link with your customers around your values is therefore the key to conversational marketing promoting a win-win and perennial commercial relationship.