Public relations
Tuesday 4 September 2018
Stade de france's team gets behind waste sorting
On the eve of this final of the TOP14, Isabelle and Carine roam around the behind-the-scenes areas of Stade de France dressed in tee-shirts that arouse curiosity. The fabric of their tee-shirts is embroidered with false plant leaves made from recycled compost bags: they are an original creation of the Dionysian association, Déchets d'Art. The idea is to raise awareness of recycling, but more specifically even, to introduce the role of the two employees in an original way. For them, it meant turning into recycling ambassadors for two hours.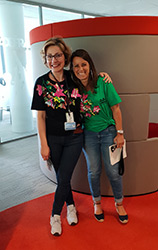 "I was pleasantly surprised as i was expecting there to be more barriers"
Our two ambassadors are part of the ten or so volunteers who have chosen to participate in the "Objectif, 0 déchet" [0 waste objective] initiative, a project led by the Stade de France Operations team. It involves providing information or a reminder about the recycling rules to any person on the site working to prepare for a game (catering, signage, merchandising, furniture suppliers etc.). One a Project Marketing Manager, the other a Financial Controller, they have no involvement whatsoever with the operational aspects of organising an event. "Sustainable development and all environmental topics concern me greatly and I wanted to participate in this project", explains Carine. Their task is to go and meet technicians and ask them if they know Stade de France's rules for waste sorting, to explain and to answer their questions. "People just need for you to be there to tell them in what bin they should throw their rubbish, in a way that isn't too directive; it's just about learning habits", Isabelle tells us, "I was pleasantly surprised as I was expecting there to be more barriers and, in the end, we have been pretty well received".
"Stade de france must be able to set an example"
Stade de France has been working on better recycling of its waste for nearly ten years. Also, it has just renewed this commitment by signing the Environmentally-friendly Sports Equipment Charter in June 2018. The Consortium has therefore invested in sorting equipment and made paper, cardboard, glass bottles, decorative elements and electronic waste etc. be recycled. Clauses for better waste recycling are included in all contracts with its service providers. But for such a complex subject that involves so many actors, human commitment on the ground is essential. The actions put in place by the Consortium to encourage them to do so must also be explained to all external stakeholders. Whether this concerns service providers or spectators, "Stade de France must be able to set an example and show that it is concerned by this global subject which affects everyone", adds Carine.

"Of course, you have to repeat yourself, spend a bit of time on it, but it's worth it".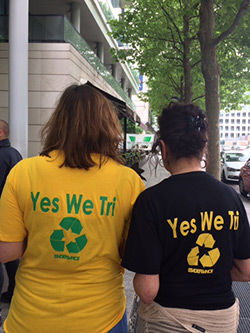 However, the task is not always easy, as our ambassadors address people who must, above all else, put on an event in a timely manner and the subject of waste is not always their priority. "Of course, you have to repeat yourself, spend a bit of time on it, but it's worth it", Isabelle admits. "We feel that there's still a lot of work to be done", adds Carine. But both of them are convinced of the usefulness of their work. "Frankly, what is two hours of our time for changes that can be really important? I am convinced that all of us can help to make things move quickly, efficiently and for the well-being of everyone. It is important that we all do something: if everyone does a little, we will manage to make mindsets and habits change", concludes Isabelle.
A second edition will therefore take place in the run-up to the FFF game between France and the Netherlands: other stakeholders, other people to convince…