Customer Loyalty
Tuesday 27 November 2018
Customer recommendations: your sales and marketing asset
More effective than a sales pitch, what really wins over today is the recommendation of a company by its customers. They are your best influencers: when their recommendations are beneficial, they contribute naturally to the influence of your image and have a direct impact on your business.
So how can you take advantage of this business opportunity?
In a time of instant and permanent communication, the recommendation of your business is a winning strategy. Therefore, you should not hesitate to include your loyal customers in the development of your offer while valuing them.
Why is the recommendation of a customer so valuable?
The recommendation is an approach technique which seems simple: the use of a third person (a satisfied and loyal customer) to reach your final target (your new customer) through networking or a reward system, for example.
The advantages of getting recommendations for your business have nothing left to prove: this generates new contacts, potential customers and optimises the costs of the sales and marketing strategy. Moreover, some businesses are already relying 100% on recommendations to recruit new customers and we understand why: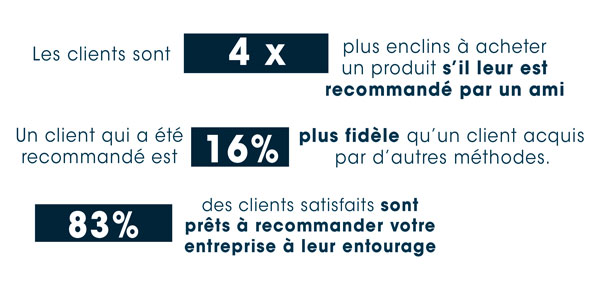 What are the techniques to be used to get your customers to recommend your company?
Natural recommendation, which is created by simple "word of mouth".
Mentioned recommendation, which consists of encouraging satisfied customers to speak about the company to those around them (an example?)
Solicited recommendation, which is much more direct, involves explicitly asking satisfied customers for a business introduction to their contacts.
Sponsorship, with a reward for the sponsor being key.
Without forgetting "Social Selling" which consists of integrating social networks in the sales process. It is used more and more in the light of these benefits: generate more leads, reduce the sales cycle and develop the business more directly and quickly.
According to a study by IBM, out of 1,000 global buyers, a third has already used social networks to enter in contact with their vendors. They have also put in place a pilot programme of Social Selling. The result? 400% increase in sales!
How to make your loyal customers an effective sales force?
To obtain a recommendation, it is above all necessary to have a satisfied and loyal customer who is listened to: the result of a good conversational marketing strategy.
Tip no. 1: Include your customers in the development of your offer
Companies are adapting to these new uses by leaving their customers with an area for free speech, which naturally places the user at the heart of the strategy and this allows constructive feedback for the company to be obtained.
The customer who devotes their time to you naturally expects feedback on the new offers, on the improvement of services, products… and also thanks. In short, showing them the usefulness of their remarks allows you to naturally make them a sponsor.
Tip no. 2: Value your customers
Customers like to be valued and feel different from the others, so be up to the task and don't hesitate to surprise them! Informal get-togethers represent a good way to reward them. Stade de France is part of this approach by offering your guests an exceptional setting which lets you maintain a special relationship. We are convinced that a meeting with a customer in this environment naturally encourages your customer to recommend your company.
One last tip: make recommendations automatic! As you will have understood, a customer recommendation is worth more than all the sales pitches. Getting your company recommended by your customers is therefore a give/give strategy for a win/win result. For more advice on customer loyalty, we invite you to download the white paper, "The customer, your ambassador".