THE SUSTAINABLE DEVELOPMENT APPROACH OF THE CONSORTIUM STADE DE FRANCE
The Consortium Stade de France defined its sustainable development approach in 2009 and deploys it through successive action plans. It has been an active member of the UN Global Compact since 2012.
In addition, on June 11th 2018, it signed the Green sporting facility managers' charter. Through this charter, it commits, alongside the Ministry of Sport and many other actors in sport (event organisers, stadiums and other sporting facilities) and with the expertise of the WWF, to 15 quantified objectives concerning all sustainable development aspects of operating Stade de France.

Hosting upcoming major sporting events in 2023 and 2024 will be an opportunity to further expand this strategy, in line with the goals developed by the organisers to this end.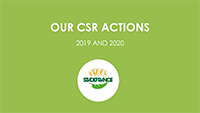 - Our CSR actions in 2019 and 2020
2021 was a transitional year that began in the midst of the ongoing pandemic, which brought with it restrictions on public attendance in the stadiums, and a return to normal in the second half of the year. In addition to continuing to implement our existing sustainable development action plan retreat day, waste sorting and recycling, 100% French, seasonal floral decorations, etc.), we have launched the new sustainable catering offer at the refreshment stands and earned the Quitri Committed Establishment award from Citeo.