THE SUSTAINABLE DEVELOPMENT APPROACH OF THE CONSORTIUM STADE DE FRANCE
The Consortium Stade de France defined its sustainable development approach in 2009 and deploys it through successive action plans. It has been an active member of the UN Global Compact since 2012.
In addition, on June 11th 2018, it signed the Green sporting facility managers' charter. Through this charter, it commits, alongside the Ministry of Sport and many other actors in sport (event organisers, stadiums and other sporting facilities) and with the expertise of the WWF, to 15 quantified objectives concerning all sustainable development aspects of operating Stade de France.

Every two years, Stade de France publishes a CSR report to report on the concrete results of its commitment to sustainable development.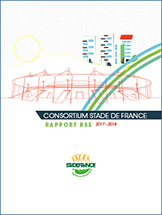 - 2017-2018 CSR Report
The period, marked by the signing of the Green sporting facility managers' charter, is a continuation of our previous commitments.
In this report, you can read nearly 20 rich and varied accounts of the local commitment of Stade de France, its involvement with disadvantaged young people, sick children and the reuse of waste from events.