Public relations
Tuesday 12 October 2021
VIP Passes: the most common misconceptions
VIP Passes are often associated with private boxes reserved for CAC 40 companies or inaccessible seats...Beware of misconceptions! VIP packages encompass a variety of offers and services that are much broader than you might think...
Whether for concerts or sporting events, at the opera, in a stadium or in the performance venues, Hospitality professionals offer many packages to live an unforgettable VIP experience, while meeting their customers' requirements and budgets.
Stade de France, which sells around 90,000 VIP services per year, is well placed to bear witness that the reality of VIP Passes is sometimes far from what you might imagine! Through the five most widespread misconceptions about Hospitality offers, this article offers you a complete analysis.
"My company does not have enough budget to buy a VIP Pass at Stade de France"
One of the first obstacles to buying a VIP Pass can indeed be the price. Some companies don't invite their customers to a VIP event for fear that the budget will be too high.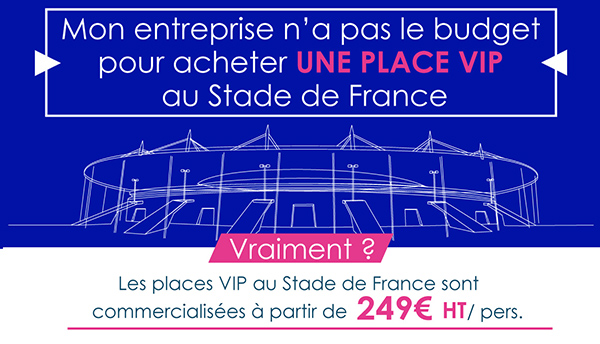 Did you know that at Stade de France, VIP Passes are available from €249 excl. VAT per person? A measured investment, especially as Hospitality offers a special moment outside the professional framework, and is conducive to the development of sustainable business relationships. An experience which often exceeds expectations and therefore justifies this investment, even for companies with the smallest budgets. As proof, 30% of VIP customers at Stade de France are SMEs. They made this choice to be able to share memorable memories and strong emotions with their customers... For the same price as a very good business meal!
"I don't know how to buy VIP Passes"
"VIP Passes are inaccessible. I don't know how to do it and I don't know anyone in my network who can help me get one!" However, for companies as well as individuals, VIP Passes are open to everyone! Just find out on our website, get a bank card and in a few minutes, everyone can find the magic formula!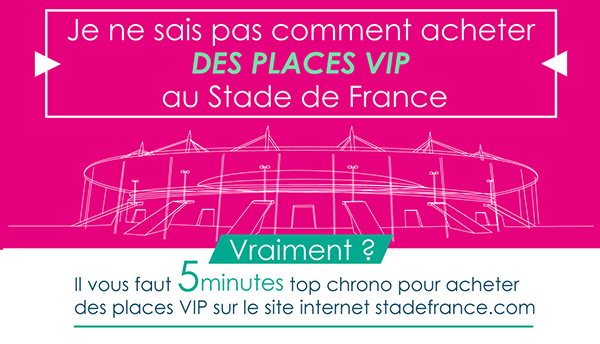 If you want to book VIP Passes for the Indochine concert or one of the next matches for the French football or rugby team, it's possible in a few clicks on the Stade de France website!
"VIP Passes are just private boxes"
Apart from the private boxes that immediately come to mind when we think about a VIP Pass in a stadium, there is, on the contrary, a wide range of VIP products for experiencing the biggest events in an exclusive setting: shared boxes, VIP lounges with sit-down meals or cocktails, seats in the stands or on the terrace, etc. With 180 different boxes spread around the stadium, 24 lounges and a panoramic restaurant, the VIP offer at Stade de France is large enough to meet your needs (networking, intimate setting, high-end service, etc.) and all your budgets.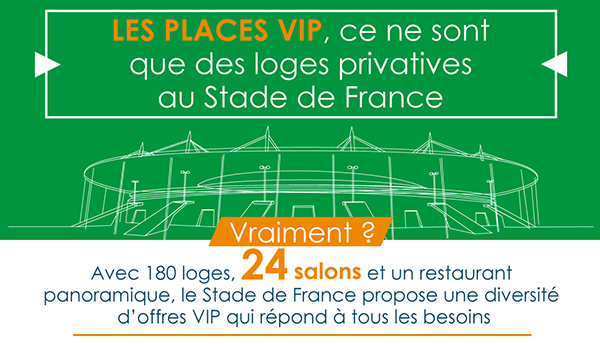 "VIP Passes are nothing more than well-placed seats"
At Stade de France, a VIP Pass is much more than a well-located seat in the arena. First of all, it is a set of exclusive services that will make this moment an unforgettable experience for you and your guests. From the welcome in the stadium to the departure after the event, as well as the catering, everything has been thought out so that you and your guest have only one thing to think about: developing your business relationships by taking advantage of the moment.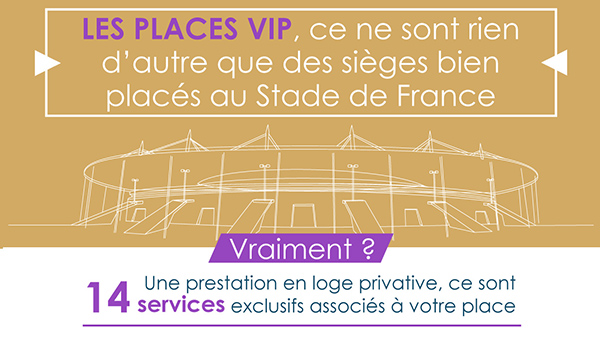 For example, a private box comes with many services:
A breathtaking view and direct access to a private terrace
Top-of-the-range gourmet catering
An inventive menu created by Guy Krenzer - winner of the best artisan in France award - on behalf of Maison Lenôtre
Unlimited champagne, fine wine, alcoholic and soft drinks
Parking (1 car for every 2 Passes purchased)
A gift for each guest
Your box has its own personal maître d'hôtel
Permanent access to the boxes' bars and shop
Free Wi-Fi
3 bars in the boxes to promote networking
Culinary activities offered by Maison Lenôtre
The Photo Studio: your guests come away with a collector's photo of the event
A gaming zone for the youngest visitors
Telephone chargers available at reception
A top-of-the-range service, equal to the prestige of Stade de France, to leave an impression on your guests!
"VIP Passes are reserved for subscribers"
Of course, you need to subscribe to receive dedicated support throughout the year, to personalise your box and create a unique atmosphere in the colours of your brand, or to benefit from privileged access to the most popular events... But subscriptions do not cover all of Stade de France's VIP Passes, far from it!
For each event, some of the VIP Passes available are reserved for sale at the event, for concerts and sporting events. Inviting your business contacts on an ad hoc basis, so for only one evening, is possible. This gives companies with the tightest budgets the opportunity to organise a public relations event that will make an impression on their guests.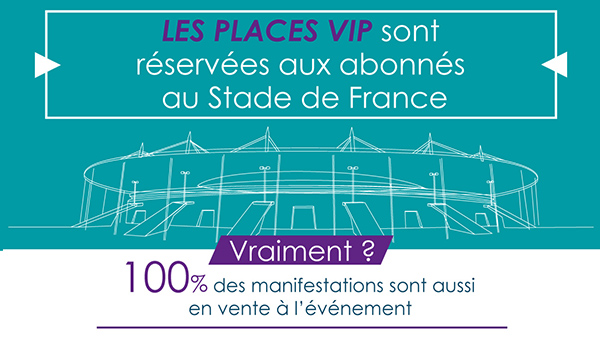 Now that access to Hospitality Passes at Stade de France is no longer a secret for you, are you ready to take action to share the greatest sporting and musical emotions?
Contact the experts at Stade de France now. They are waiting for your call to organise your next business meetings and increase the loyalty of your best customers.