Public relations
Wednesday 19 September 2018
Common preconceptions about Stade de France
In 20 years of existence, Stade de France has hosted the most important international events. Everyone remembers the 1998 World Cup, the concerts of Johnny Hallyday and more recently, Euro 2016. 20 years of exception which have forged the reputation of Stade de France throughout France and well beyond our borders.
If Stade de France no longer needs to demonstrate its reputation, there is still a lack of awareness about all of its activities. (seminars and conventions, office rental, storage spaces…). There are still many people who see Stade de France only in terms of its major events (sport and concerts) whereas on the contrary, it is in motion every day of the year, becoming one of the most important "business centres" in the north of Paris. So, for our 20th birthday, we wanted to set a few things straight.
Preconception no. 1: "Stade de France is too big for my event"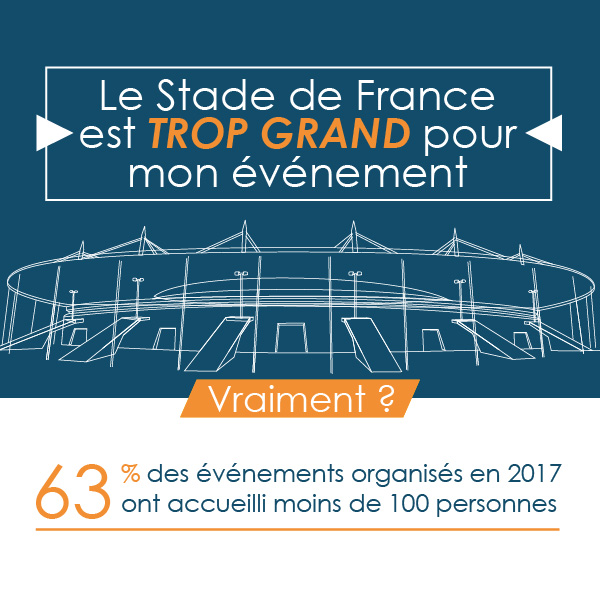 When the French are questioned about Stade de France, one of the characteristics which comes up most often is its size. With its 80,000 seats, the largest stadium in France has what is needed to impress. What people know less, is that hidden in these impressive stands are 20 flexible reception areas.
Occupied by VIPs and officials during major events, these lounges welcome corporate events of all types throughout the year: study days, seminars, conventions, team building events, business evenings… Events that despite preconceptions, are not systematically on a large scale. For example, 63% of corporate events organised at Stade de France in 2017 hosted less than 100 people.
A proportion which may be surprising at first sight, but which on the contrary is representative of the capacity of the lounges to adapt, which can as much host events for a dozen people, as events for 1,500 people.
Preconception no. 2: "Stade de France is unaffordable for businesses"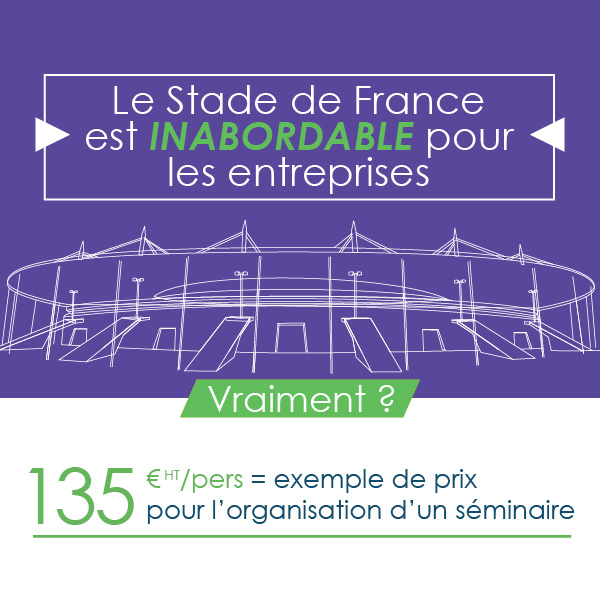 One might think that when a company organises an event at Stade de France, it closes off the whole stadium. However, depending on the configuration of the event, a company has the possibility of booking only the most suitable area for its requirements. Flexibility, which added to the know-how of the teams of Stade de France, lets us offer attractive rates to businesses, including SMEs.
For example, for a price of €135 excl. VAT per person, you can organise a seminar in one of the lounges at Stade de France. A package which includes:
The provision of an equipped and furnished lounge
Reception and a coffee break
Lunch at the panoramic restaurant Lenôtre
A project team composed of a member of the sales team and a floor manager
Stade de France's technical equipment (HD wi-fi, video projector, sound system…)
These competitive rates let us welcome both businesses which occasionally organise an event and specialised agencies in the search for a space for their clients.
Preconception no. 3: "Stade de France is reserved for sporting and musical events"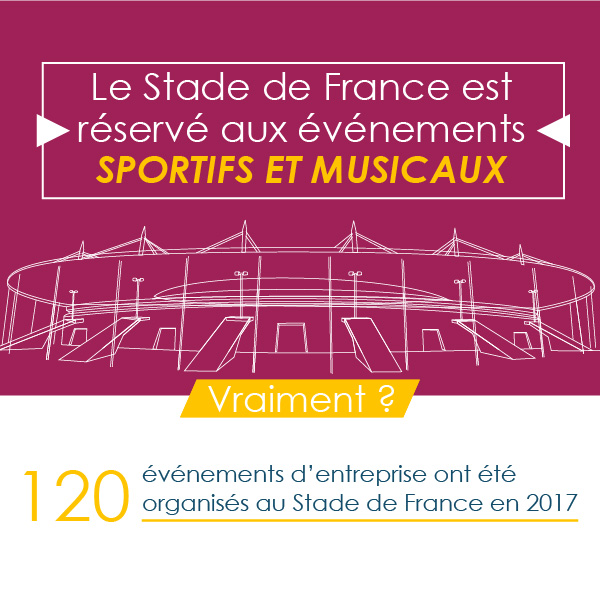 With more than 120 corporate events organised in 2017, you will have understood that the "life" of Stade de France is not limited to major sporting and musical events. Each day, hundreds of people travel to Plaine Saint-Denis to visit the behind-the-scenes areas of Stade de France (100,000 visitors/year), for lunch at the restaurant with panoramic views run by Maison Lenôtre (400 covers served each month) or simply to work in the 2,500 m² of offices available for rental.
Stade de France enjoys a rich and diversified activity throughout the year, which positions it as one of the most important "business centres" in the north of Paris.
Preconception no. 4: "Stade de France is too far from Paris"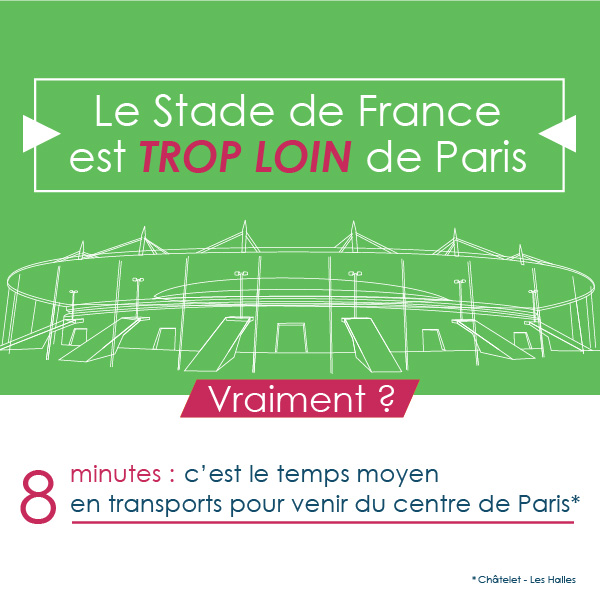 When addressing the location of Stade de France, it must be admitted that it is often criticised by its detractors, whereas on the contrary, the accessibility of Stade de France is one of its strong points.
There are no less than 10 public transport lines (RER, metro, tram, bus) which allow you to quickly access the stadium. For example, it takes only 8 minutes to get to Plaine Saint-Denis from the centre of Paris (Châtelet - Les Halles).
For those who are coming from a little further away, the stadium is only 30 minutes from Roissy Charles de Gaulle Airport, 10 minutes from the Gare du Nord and 20 minutes from the Gare de Lyon.
If, despite the different means of transport, you prefer to travel with your vehicle, the A1 and A86 motorways have an exit to Stade de France and 4,500 parking spaces are available throughout the year under the stadium's square.
While many sites in inner Paris have overloaded access points, Stade de France enjoys an accessibility yet unequalled in the Parisian region, only 1.5 km from the gates of Paris!
In 20 years, Stade de France has forged a solid reputation for itself. Despite this, we hope we have helped you to discover it in a new light in this article. And why don't you push the experience a little further by visiting it in the company of our seminar and convention teams?