This year again, the final of the Top 14 will take place at Stade de France, an appointment not to be missed for all rugby lovers! Who will win the Brennus shield this year?
Saturday, 2 June has been circled for a long time by rugby lovers: it is day of the TOP 14 final and it will provide the fireworks for the end of a thrilling 2017/2018 season.
Even before the identity of the two teams that will compete for the Brennus Shield is known, the National Rugby League can already announce the programme of an exceptional after-match show, orchestrated by one of the greatest artists of the international music scene: MIKA will perform before the 80,000 spectators in Stade de France in a closing show which will go down in history.
Surrounded by his musicians and dancers, the pop icon, who holds 3 World Music Awards, 2 NRJ Music Awards and 1 Brit Award, won't do things by half for his "first" in the Dionysian arena which will provide an excellent ending to this TOP 14 final!
We hope to see you on 2 June at Stade de France to close the season with Mika!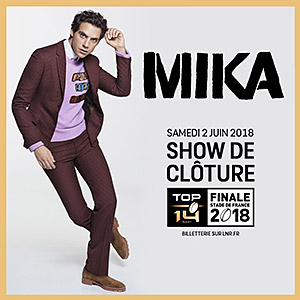 TIMES FOR 2018 TOP 14 FINAL AT STADE DE FRANCE
Day of the match: Saturday, June 2nd 2017
Event beginning: 8:45 PM
BOOK TICKETS FOR 2018 TOP 14 FINAL
To book your tickets, sign up to be notified of the date when tickets go on sale by clicking on the "be notified" button.
BEWARE OF THE BLACK MARKET
Beware of scams - by purchasing your tickets on websites not authorised by the match organiser you run the risk of:
Paying far too much for them.
Not receiving the tickets or receiving tickets for different seat categories than those ordered. As these sites have no certain and official source of ticket supply, they are not able to guarantee them to you.
You have no recourse. In case of difficulty, you will not necessarily be able to call on a professional ready to meet their commitments and to compensate you if applicable, even though you have already paid or incurred transport or accommodation costs.
BEWARE OF APPEARANCES!
Ticketing distribution sites appearing at the top of the results on search engines when you are looking for a ticket are not necessarily sites authorised by the match organiser. Receiving an email confirmation is not a guarantee of the validity of the purchased ticket.
Therefore, we advise you to use our official ticket office for shows:https://www.stadefrance.com
For any other ticketing outlet, check with the match organiser that this seller has been authorised by them by consulting the organiser's official website or by contacting them by telephone. The match organiser's license number and/or their name appear on the match's tickets and posters.