Practical information
TOURIST PASS
5 AREAS TO DISCOVER ON PLAINE COMMUNE TERRITORY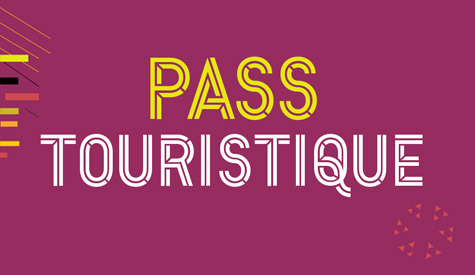 You visited a cultural site in Saint-Denis for a full price?
You can visit the other places for a reduced rate!

The Basilica of Saint-Denis

The Art and History Museum of Saint-Denis

Plaine Commune Tourism Office

Stade de France

Cité du Cinéma
SAINT-DENIS, A CITY TO DISCOVER!
Upon presentation of your full price ticket, you will enjoy a reduced rate in all the other places participating to this operation:
THE BASILICA OF SAINT-DENIS
1, rue de la Légion d'honneur
Basilica of Saint-Denis
Saint-Denis
01/04 – 30/09: 10 am – 6.15 pm, Sunday: 12 am – 6.15 pm
01/10 – 31/03: 10 am – 5.15 pm, Sunday: 12 am – 5.15 pm
01 48 09 83 54 http://www.monuments-nationaux.fr/en/
Full price €8,50 / Discounted price €6,50
Last residence of the kings and queens of France, the former royal Abbey of Saint-Denis lit the artistic, political and spiritual history of the Middle Ages. Huge gothic vessel with exceptionally bright windows, the Basilica Cathedral holds treasures including an exciting façade carved in the twelfth century, recently restored, and over seventy sculpted tombs including those of Clovis, Dagobert, Bertrand du Guesclin, François 1er, Louis XVI and Marie-Antoinette.
THE ART AND HISTORY MUSEUM OF SAINT-DENIS
22 bis rue Gabriel Péri
Porte de Paris
Saint-Denis
Monday / Wednesday / Friday: 10 am – 5.30 pm
Thursday: 10 am – 8 pm
Saturday / Sunday: 2 pm – 6.30 pm
Closed Tuesday and bank holidays
01 42 43 37 57 — www.musee-saint-denis.fr
Full price €5 / Discounted price €3
The museum is housed in a former Carmelite convent of the seventeenth century, some of the nuns cells are still preserved. Between the basilica and Stade de France, the museum welcomes you for an unusual tour through unique collections, dedicated to the history city, the poet Eluard and the Surrealists, or the 1871 Paris Commune.
THE TOURISM OFFICE'S GUIDED TOURS, ANIMATIONS, WORKSHOPS AND CRUISES
1, rue de la République
Basilique de Saint-Denis
Saint-Denis
Everyday 9.30 am – 1 pm / 2 pm – 6 pm
Bank Holidays 10 am – 2 pm
Closed January 1st, May 1st, December 25th.
01 55 87 08 70
www.tourisme-plainecommune-paris.com
infos@plainecommunetourisme.com
Full price from €8
Discounted price from €5
Come to one of our guided tours conducted by experienced guides. Depending on current events, different themes are available: street art walks, discovery of Saint-Ouen's flea market, industrial heritage, cruises. Forms of original discoveries for a territory that has not finished surprising you!
STADE DE FRANCE TOURS
Stade de France – Saint-Denis
Entrance at gate H
For any information:
00 33 (0)1 55 93 00 45 / contact@cultival.fr
Online: Cultival
CITÉ DU CINÉMA
20, rue Ampère
Carrefour Pleyel
Guided Tours only on Fridays at 1.30 pm
Compulsory booking by telephone or email :
01 42 46 74 61 / cadeaux@cultival.fr
www.cultival.fr
Full price €14,90
Discounted price (– 10 years old) €9,90
An architectural tour and an immersion in cinema workings. First, a former power station, Cité du Cinéma is now the key reference for the biggest names in business. Cultival opens doors of this extraordinary place normally closed to the general public where work rhymes with passion. A must tour for all ages !
Consider stamping your full price admission ticket and keep it safe to visit another place.
The discounted price is granted only once per site on presentation of the full price admission ticket.
It is not valid with other offers. Operation validity end: December 31, 2016