Submitted by
admin
on Tue, 09/08/2015 - 06:46
A LeCab pick-up point is available at the crossroads of the rue de l'Olympisme and the avenue Charles de Gaulle.
To order, there are different possibilities:
- Download the LeCab application, enter the STADEFRANCE code and get a €10 discount on your first journey.
- Book your LeCab in advance (free of charge up to 1 hr before the departure time of your journey).
- Please contact the LeCab hostesses to make your booking.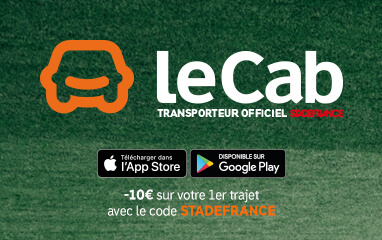 Subtitle:
Official Carrier of Stade de France
Push "Organize your visit":