To celebrate his 50-year career, maestro Placido Domingo, a reference in classical music, will conduct Verdi's masterpiece during a stadium tour across Europe. AIDA thus returns to Stade de France after seven years of absence.
The Pharaonic staging will feature an 85 metre-wide stage with sumptuous scenery and giant digital screens. 800 actors, accompanied by horses and battle tanks, will thus bring ancient Egypt back to life to create the most spectacular opera event of 2017.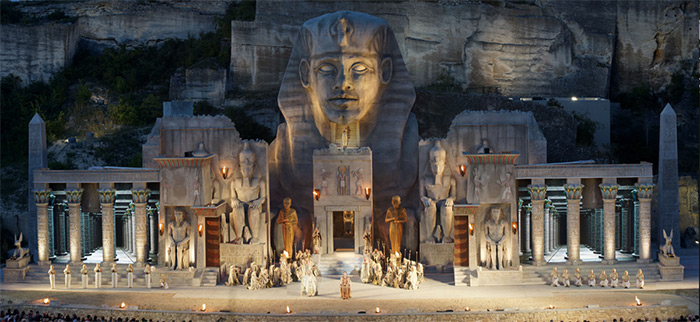 Placido Domingo - singer, conductor, general manager of the Los Angeles Opera, a special ambassador of UNESCO and promoter of young talent - wanted to develop a show that would reach a wide audience, thanks to the legacy of opera and the success of the great tenors of the 90s. Named twice in the Guinness Book of Records for his 147 roles and more than 3,800 performances, a life's dream becomes reality:
"It has always been a dream to stage a big, a very big opera. I really like the French public and I am particularly pleased to be performing in Paris".
In the main roles:
Aida : Liudmyla Monastyrska
Amneris: Ekaterina Gubanova
Radames: Fabio Sartori
Ramphis: Stefan Kocan
Amonasro: Luca Salsi
Family rate: -15% for 4 tickets purchased
Valid only for categories 1 and 2, subject to availability
TIMES FOR AIDA AT STADE DE FRANCE
Day of the event: 23 September 2017
BOOK TICKETS FOR AIDA
To book tickets for the performance of AIDA on Saturday, 23 September 2017 at Stade de France, click on the "Book my seat" button to select the price category of your choice, add a parking space to your cart if necessary and proceed with the payment.